EVERYBODYFIGHTS
ORIENTATION
Take our quick orientation prior to your first visit.
CREATE AN
ACCOUNT AND SIGN THE WAIVER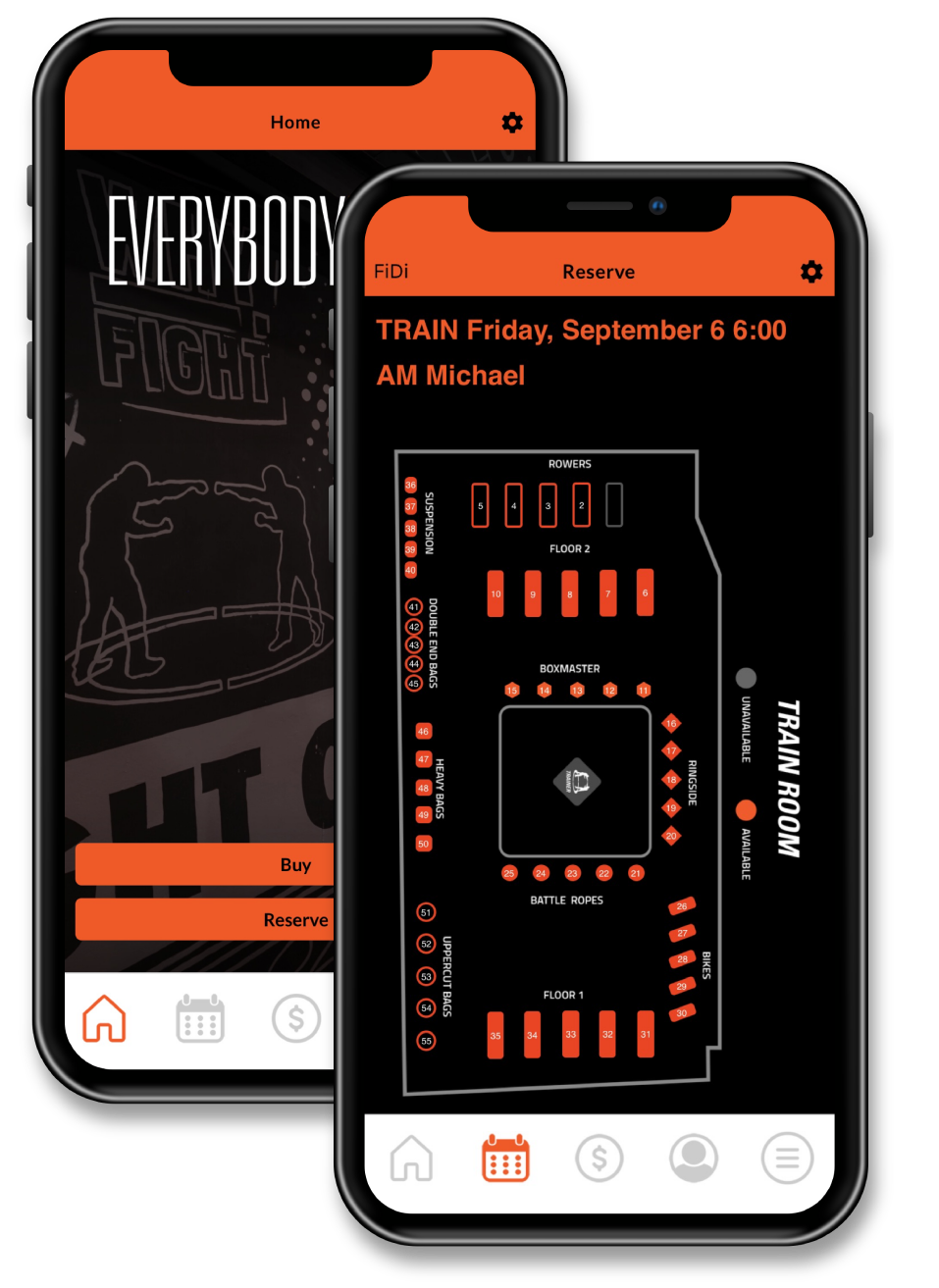 SELECT YOUR FIRST CLASS
We offer a variety of classes to simulate a true boxer's training camp. You can book classes any time in the app or on our website!
TRAIN | Full-body circuit class
BAGS | Boxing and bodyweight class
ROAD | High-intensity treadmill class
MITTS | Boxing technique class (members only).
RECOVER | Stretching and mobility class.
OPEN GYM | Free weights, cardio equipment and more for your own workout
RESERVE YOUR SPOT
Select your preferred class and then find an available spot. Available spots are orange and unavailable spots are grey.
BAGS, TRAIN and ROAD all have spot scheduling.
For all other classes, simply sign-up on the schedule as no spot reservations are required.
PREVIEW THE NUMBER SYSTEM
Most of our classes use our number system. Watch George's quick tutorial so you're ready to start throwing those punches.
ARRIVE 15 MINUTES EARLY AND CHECK IN
To ensure you have enough time to check in, we recommend that you arrive 15 minutes early. There are two ways to check in.
Booking App:
1. Click the settings (gear) icon in the top right hand corner of the app.
2. Your personalized barcode will be there and can be scanned by a front desk associate.
Front Desk Kiosk:
1. Go to the iPads at our Front Desk.
2. Enter your email address in the "Check in here" field.
If you're not checked in 5 minutes prior to class, your spot could be released to someone on the waitlist.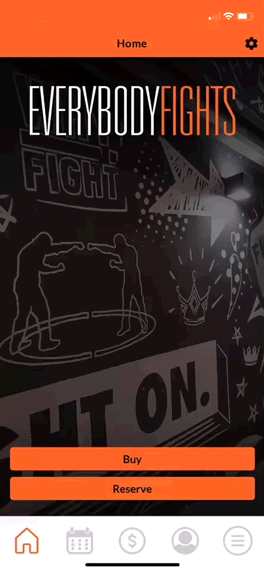 GET GLOVES AND WRAPS
GLOVES | Free for your first class and $3 for all future classes (members always get free rental gloves).
HAND WRAPS | Available in our pro shop to purchase for $12.
GLOVES NEEDED: BAGS, TRAIN (except strength and cardio), MITTS, TECHNIQUE
GLOVES NOT NEEDED: ROAD, TRAIN | strength and cardio, STRENGTH
HEAD TO THE LOCKER ROOM
We provide self-locking lockers to store your items and our locker rooms are fully stocked, including towel service and showers with body wash, shampoo and conditioner.
Click Here to see the amenities specific to your home gym.
FIND YOUR SPOT
Find your spot in class and get ready!
RESERVATION | Your spot will be shown when you book online or in the app, in the booking confirmation email you receive and on the screen when you check in!
ROOMS | The BAGS and ROAD room spots are numbered and the TRAIN room is organized by station.
LOST | If you don't know where to go, the front desk or trainer can help you!
HOW TO FIND AND/OR CANCEL CLASSES
If you want to view your class schedule, log in to your account, select MY ACCOUNT and then MY CLASSES. To cancel a specific class. find it in the MY CLASSES section, select the gear icon and then select Unreserve.
You must cancel 3 hours in advance or you lose the class (non-members) or receive a $5 fee (members).
If you have not checked in at least 5 minutes prior to class, your spot will be released to someone on the waitlist and you will incur a no show penalty.
No shows will be assessed using the same cancelation policy penalties.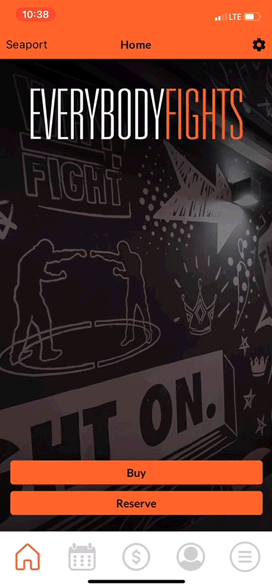 AFTER CLASS
Stop by the front desk to book your next visit and learn more about options to join the fight.
If you have any other questions, please check out our FAQ page here. You can also hit us up on live chat from 9AM-12PM and 1PM-5PM EST or shoot us an email 24/7 at help@everybodyfights.com.
You're all set for your first class.